Occupational Health Technicians make up a vital part of a multi-disciplinary team which ensures the health of all members of a business. But first, let's take a look at what Occupational Health is.
What is Occupational Health?
Occupational Health is a branch of healthcare that specifically looks at health and safety in the workplace. Those who work in Occupational Health provide employers and employees alike with impartial specialist advice on how work is affecting their health, and how their health is affecting their ability to work.
Put simply, it's a way in which to make sure that everyone at work is safe, secure and well-prepared for any potential accident. It's also the best way possible to make sure that your business continues to survive and thrive in today's hectic world.
.
Why is Occupational Health Important?
Despite being one of the safest countries to work in – thanks in no small part to Occupational Health – jobs in the UK are not without their dangers. The chart below highlights some of the surprising facts that the Health and Safety Executive (HSE) has uncovered in recent years.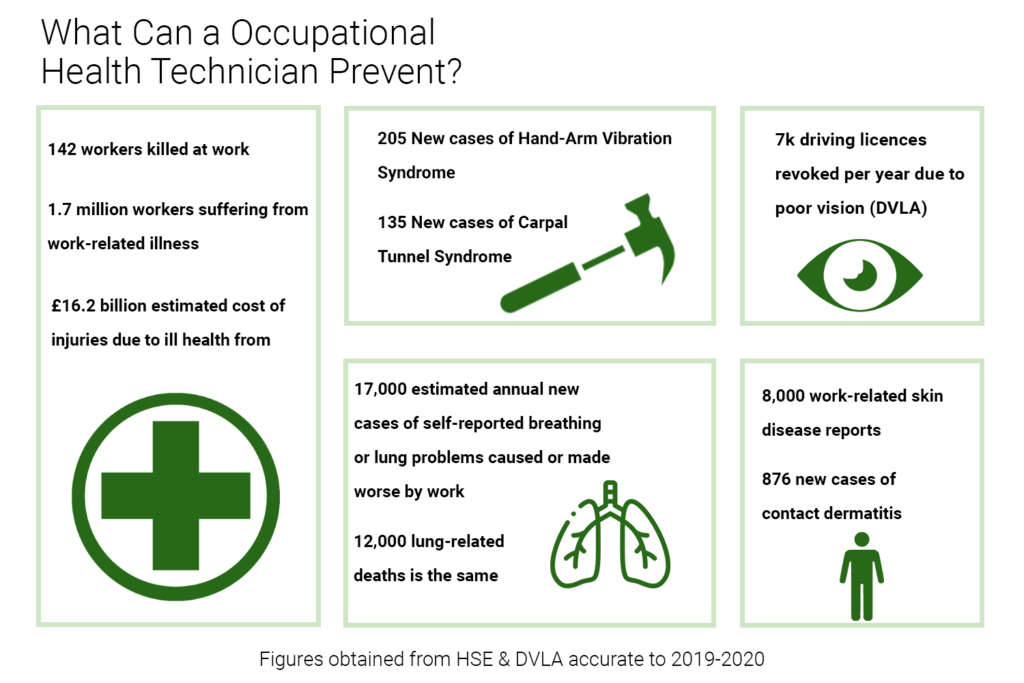 The Role of Occupational Health Technicians
Occupational Health Technicians (OHTs) are able to conduct a range of health assessments with employees in order to determine their current level of health in relation to their level of workplace exposure to risk factors. OHTs have the proficiency to carry out a wide range of tests related to health issues, including but not limited to:
Audiometry
Spirometry
Urinalysis
Blood pressure reading
BMI
History taking
Psychometric scoring
Functional examination for fitness for role
Drug and Alcohol testing 
Vision screening
Epworth sleepiness test
Lung Function testing
Musculoskeletal assessments
Safety-critical tests
Hand-Arm Vibration testing
Occupational Health Technicians can perform this extensive range of tasks either on-site or at a suitable clinic. They find themselves regularly liaising with Occupational Health Nurses, Human Resources personnel and the Health & Safety Executive.
The life and role of an OHT is frenetic, fast-paced and far-ranging. No day is quite the same as the next, and you are continually afforded the opportunity to make a real, tangible difference in the lives of staff or colleagues.
Who is suitable to become an Occupational Health Technician?
Due to its close proximity to other forms of healthcare, the role of an Occupational Health Technician is best suited to people who already come from a health sciences background. With this kind of foreknowledge, you have a far more solid basis from which to learn and grow.
However, at Meduc8ion we are committed to providing the best training available even if you do not already have a wealth of experience in the health sciences. As such, we welcome those managers, supervisors and those enthusiastic to learn more.
What are the career opportunities available to an Occupational Health Technician?
Training as an OHT can offer up a whole new world of opportunities. They work with a huge variety of clients across practically every type of industry.
Future career pathways include:
Health and Safety Advisor
Technician Clinical Lead
OH Manager
Contract Manager in OH
Public Health/Health and Wellbeing leading to being a Wellness Coach or Health and Wellbeing Advisor
Nurse practitioner
Nurse
OHTs typically command a highly respectable wage, and are much sought after in today's economy.
To change your future career, become a qualified Occupational Health Technician or simply to find out more, head over to our course page at: https://meduc8ion.co.uk/occupational-health-technician-training/